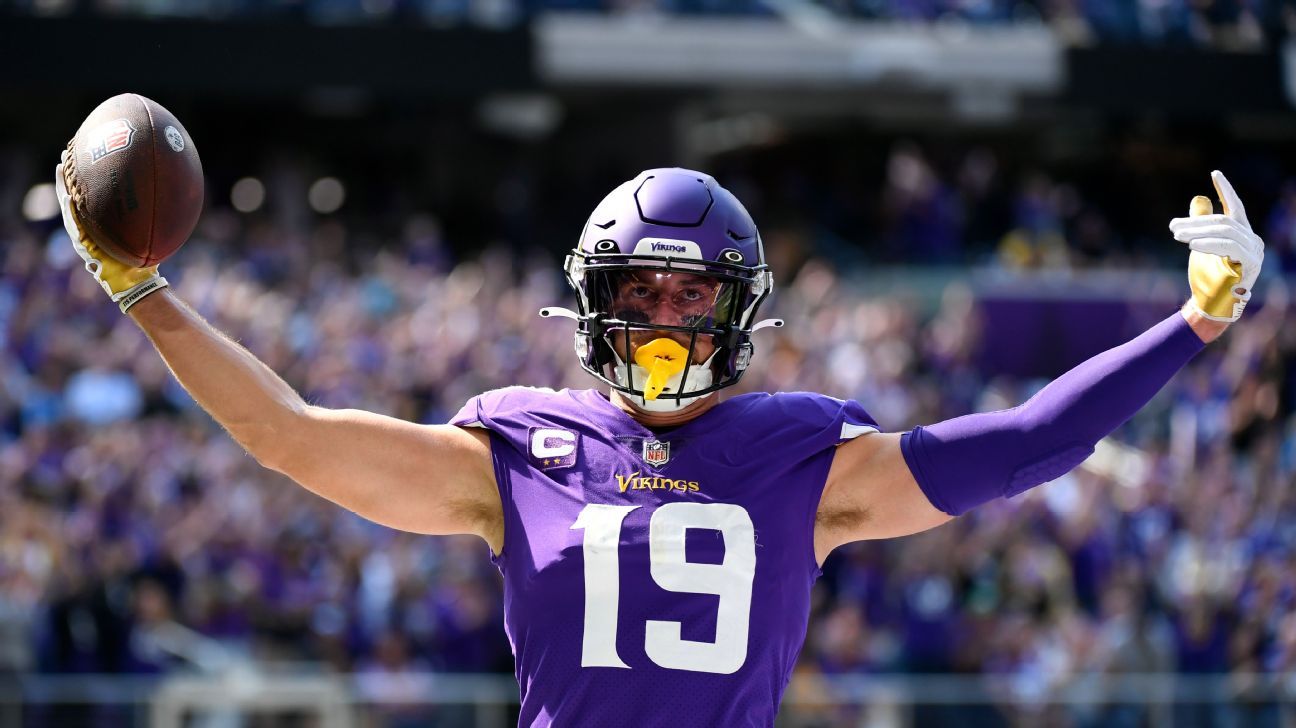 The Minnesota Vikings released receiver Adam Thielen on Friday, completing a storied tenure for the Minnesotan that captured the hearts of fans across the region.
Born in Detroit Lakes, Minnesota, and played collegiately at Minnesota State Mankato, Thielen signed with the team in 2013 after serving as a tryout player at rookie minicamp. By the end of the 2022 season, he had more career catches (534) than any player in team history besides Chris Carter and Randy Moss, both of whom are members of the Pro Football Hall of Fame.
"Going from a kid growing up in Detroit Lakes to playing for the Minnesota Vikings has been a journey beyond my wildest dreams," Thielen said in an Instagram post. "I want to thank everyone within the Vikings organization – coaches, teammates, the Wilf family and fans – for all the love and support I have received over the years. I have put my all into presenting these past 10+ years. Gave some a shot and are playing for this team and state. My family and I will always cherish the memories we made on and off the field. Minnesota is our home and always will be.
Coach Kevin O'Connell said in a statement: "Adam's story is one that many people know and admire and an incredible example of what a tireless pursuit of a goal can ultimately achieve. " "For more than a decade, Adam honed his craft to become one of the most well-recognized wide receivers in the NFL. During that same time, he spent much of his time in his home state, which made it Made it even more special for him. For earning our 2022 Walter Payton Man of the Year nomination. I personally lean on Adam many times over for his work ethic, leadership and mentorship to help get our team there Where we wanted it to be last season.
But as Thielen approached his 33rd birthday, the Vikings' offense began to lose ground to younger players. In the final five games of last season, he finished fourth behind Justin Jefferson, TJ Hockenson and KJ Osborne.
That dynamic, along with a contract that imposed a $19.97 million cap number for 2023, led to Friday's move. The Vikings talked to him about a possible contract restructuring that would include a pay cut, and it was clear that Thielen would have less of a role in their offense going forward.
Thielen told ESPN last month that he looks forward to retiring as a Viking. But he added: "I also want to show that I can play at a high level."
General manager Kwesi Adofo-Mensah released a statement on Friday: "Adam will always be a part of the Minnesota Vikings family and history. Setting the standard with his play on the field, being a selfless partner and making a lasting impact in the community." Adam's influence is significant. We are grateful for everything the Vikings have brought to the organization since we arrived in 2013, and I am grateful to have had the opportunity to work with them over the past year. He should stand up for what is the best representation of the Minnesota Vikings."
Given the relatively short free agent market at receiver, he should generate interest from teams that can provide more playing time and targets. With the move, the Vikings save $6.4 million on the salary cap.
Thielen, a two-time Pro Bowl selection, had 70 catches for 716 yards and six touchdowns last season. He has 6,682 yards and 55 touchdowns in his career.