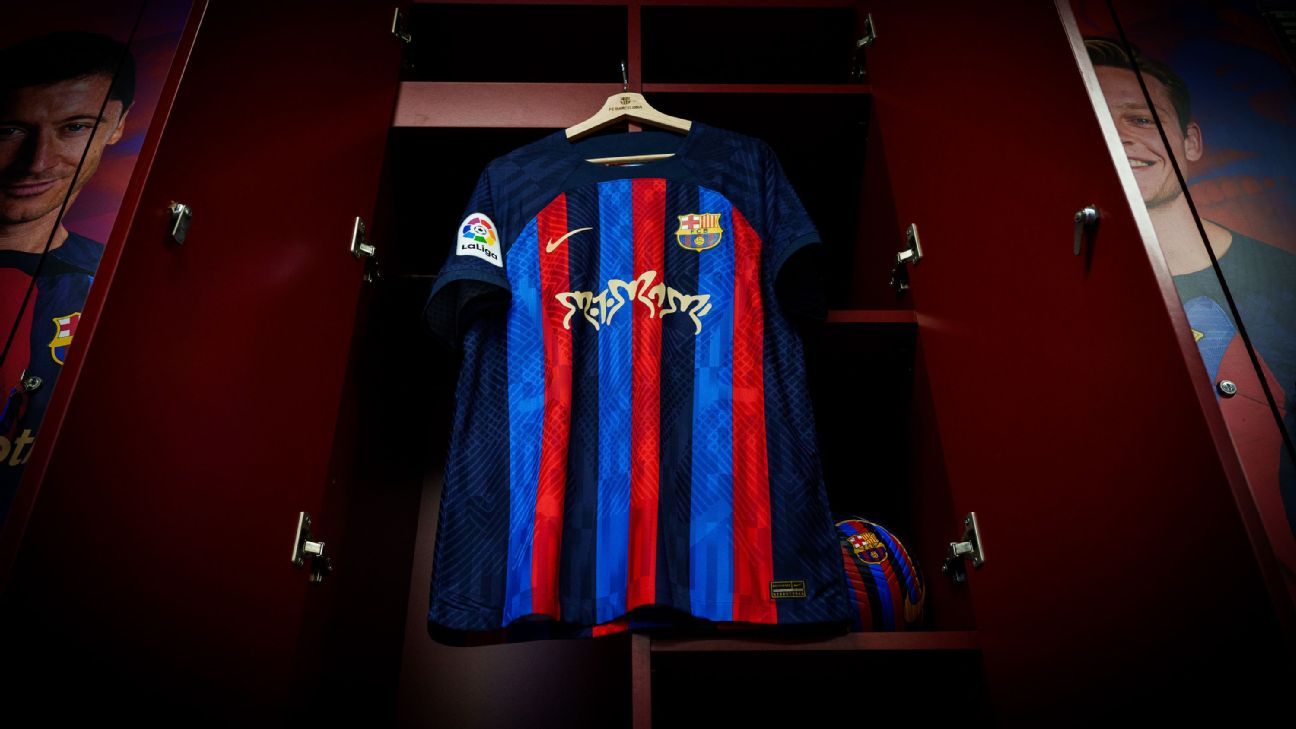 Barcelona will wear a special kit featuring the logo of Catalan pop star Rosalia's "MOTOMAMI" album for Sunday's LaLiga classico Against Real Madrid at Camp Nou.
The iconography will appear on the front of the jersey, replacing the usual Spotify sponsor branding, and will also be worn by the club's women's team when they host Madrid in Liga F on 25 March.
– Barcelona vs Real Madrid: Stream Live 3/19, 4 PM on ESPN+ (US)
The publicity stunt is part of Barça's sponsorship deal with Spotify and marks the one-year anniversary of the album and Rosalia's success on the music streaming service.
Rosalia, who was born in San Cugat, 30 minutes north of Barcelona, ​​was the most streamed Spanish artist in the world in 2022 on Spotify. The track from the album "MOTOMAMI" has been streamed over 1.8 billion times.
Barca announced Spotify as their principle partner last March when, in addition to shirt sponsorship, the club also sold the naming rights of their Camp Nou stadium to the Swedish company.
It will be the second time that a Barca shirt has been used to promote an artist under the deal. for the league classico At the Santiago Bernabéu in October, they replaced the Spotify logo with the emblem of Canadian rapper and singer Drake.
Fans of both Barca and Rosalia will also be able to get a one-off shirt — although they'll have to pay out of pocket to do so. Barca have announced that 1,899 shirts – a nod to the year the club was founded – will be sold for €399 ($420) and an additional 22 limited edition jerseys will be available for sale for €1,999.99 ($2,114).
This is not the first time that entertainment and football have come together in the name of promotion. In the early 2000s, Atlético Madrid used their shirts to promote a series of films. As part of a deal with Columbia Pictures, Atlético included branding for films such as "Spider-Man 2," "Resident Evil," "Hitch," "White Chicks" and "Bad Boys 2."
Most recently, The Rolling Stones launched their own line of exclusive Paris Saint-Germain merchandise, which includes football shirts as well as quirky offerings like sneakers, moped helmets, and skateboards.
Bob Marley has graced a number of kits over the years with both Dutch giants Ajax and Northern Irish side Bohemians releasing tributes to the Jamaican reggae legend.