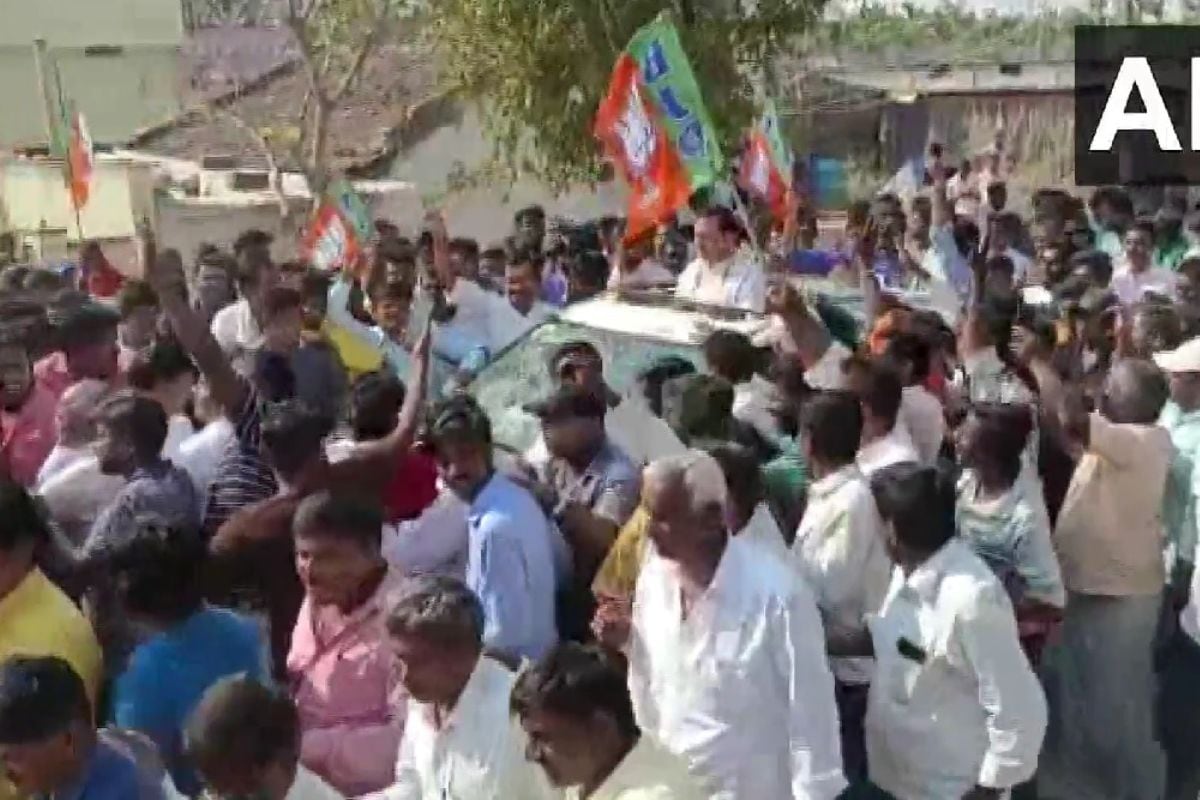 Last Update: March 07, 2023, 20:04 IST
Davanagere (Davanagere), India
The Lokayukta has registered an FIR in the alleged bribery case, in which Virupakshappa was named as accused number one. (Photo: News18)
The Lokayukta had recovered over Rs eight crore last week from V Prashant Madal, the MLA's son, in an alleged cash-for-contract scam.
BJP MLA from Karnataka's Channagiri Madal Virupakshappa, who has been named as an accused in a bribery case, was accorded a grand welcome by his supporters after he was granted interim anticipatory bail by the High Court on Tuesday.
Virupakshappa's supporters were seen bursting firecrackers, dancing to the beats of drums and raising slogans in his praise in Davangere.
#Watch , Davanagere, Karnataka: Channagiri MLA Madal Virupakshappa was welcomed by BJP workers as he was granted interim anticipatory bail by the Karnataka High Court. He was on the run for 5 days after his son was arrested along with 4 others for taking a bribe of Rs 40 lakh. pic.twitter.com/loL3MI8n71

– ANI (@ANI) March 7, 2023
The Lokayukta had last week recovered over Rs eight crore from V Prashant Madal, the MLA's son, in an alleged cash-for-contract scam. The Lokayukta has registered an FIR in the alleged bribery case, in which Virupakshappa was named as accused number one.
The unaccounted cash was recovered from the office of Karnataka Soap and Detergent Limited, of which Virupakshappa was the chairman, following a trap by the Lokayukta in which his son was caught red-handed while allegedly accepting a bribe of Rs 40 lakh. Later the MLA left the post.
Further searches led to the recovery of around Rs 2 crore from the KSDL office and over Rs 6 crore from Prashant's house. In total, Rs 8.23 ​​crore in cash, huge amounts of gold and silver ornaments and large investments in land in various parts of Karnataka have been allegedly unearthed, Lokayukta sources said.
Congress General Secretary and Karnataka in-charge Randeep Singh Surjewala today targeted the BJP government in the matter of bribery.
"4th day of #MysoreSandalSoapBribeGate! BJP MLA Madal Virupakshappa is still missing. If Bommai Govt can't even arrest an absconding MLA, how will it deal with law and order & criminals in #Karnataka? Will reveal more details about Bribe Gate shortly. Time for HM and CM to step down! Congress leader tweeted.
He wanted to know whether some other people were also involved in the scam.
"Did Prashant Madal S/o BJP MLA eat a paper when he was arrested on March 3? Was the name of Yatish Chandra IPS, DCP Crime Branch written on the slip? Were the names of the children of the two leaders also on the slip? Who was taking the money? Surjewala asked.
read all latest politics news Here