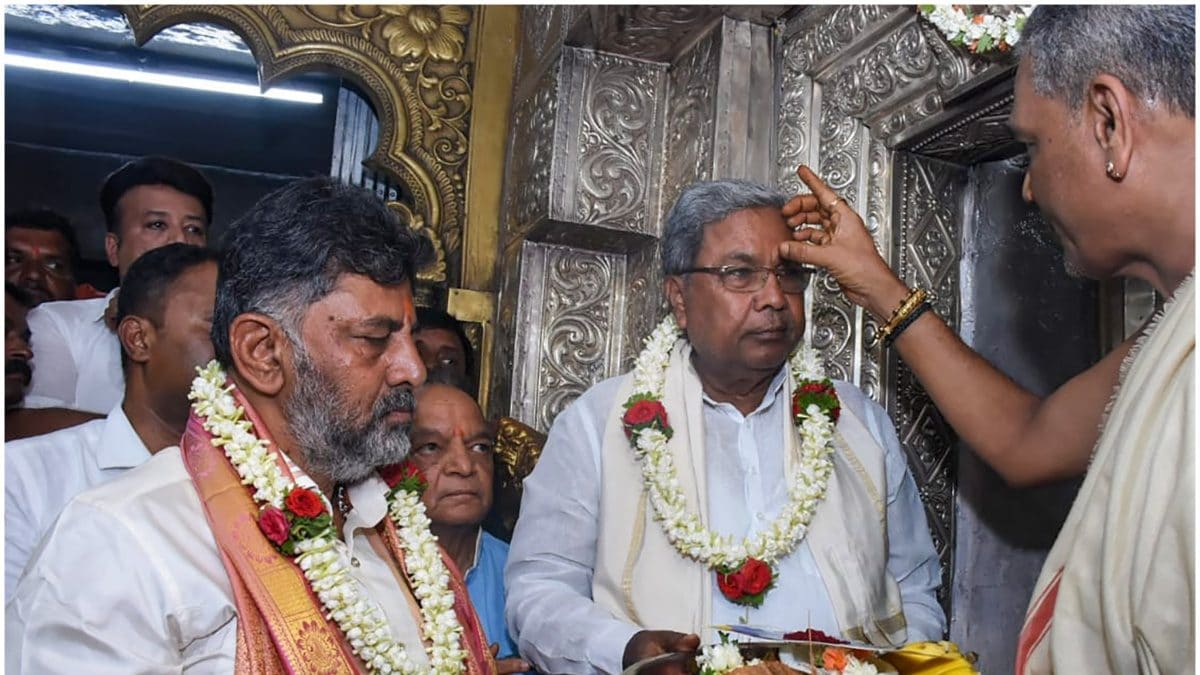 Former Karnataka CM Siddaramaiah with KPCC President DK Shivakumar. pic/PTI file
If Congress keeps it up, it could become threatening again across Karnataka, overtaking BJP in upcoming general elections
The return of Congress to power in Karnataka suggests a realignment of castes in the state. The Congress covered some districts in Kittur, Kalyana Karnataka, Central Karnataka and the southern part of the old Mysore region. The BJP could only sweep two constituencies, Udupi and Dakshina Kannada, and won a few seats here and there across the state. The Janata Dal (secular) collapsed completely, giving way to the Congress in the old region of Mysore.
A closer look at the results sheds some light on some interesting facts. Kittur Karnataka and Kalyana Karnataka regions are Lingayat strongholds, with many OBCs, mainly Kurubas and SC/ST. It also has a significant Muslim population. The BJP has captured Belagavi/Belgaum, Vijayapura/Bijapur, Bagalkot, Haveri, Indivisible Bellary, Raichur and Gulbarga in these two regions.
The "betrayal" of the Lingayats by the BJP has reverberated in these regions, and the heavy electoral toll of Congress suggests a shift in community votes. The Kurubas voted as a bloc for Congress because of their leader Siddaramaiah.
Muslims also seem to have voted as a bloc in front of Congress to stop BJP. Scheduled castes and scheduled tribes also voted for Congress in a big way. AICC President M Mallikarjun Kharge played the son of the earth card and it paid off. The supreme leader of the Lingayat Congress, MB Patil, also played a large role in gaining the support of his community. He was instrumental in drawing former CM Jagadish Shettar into the party, which severely damaged the BJP.
BJP supporters like Govind Karjol, Murugesh Nirani and B Sriramulu lost due to changing castes. The Lingayat reservation and the internal quota in the reservations also appear to be against BJP.
Congress also swept the districts of Davanagere and Chitradurga in central Karnataka, again being a stronghold of Lingayat, Kuruba and SC/ST.
Congress also swept Tumkur, the stronghold of the Lingayats, Vokkaligas and SC. The same voting pattern can be seen here.
Surprisingly, Congress swept Chikmagalur District, which had been a BJP citadel in recent years. The victory can be attributed to the decisive shift in votes of Vokkalig, who apparently supported their caste leader DK Shivakumar. Same thing happened in Mandya, Bengaluru Rural, Chikkaballapur and Ramanagara: DKS strike again.
The districts of Mysore and Chamarajanagar, which Congress has literally swept over, are also dominated by Lingayat, Vokkaliga, Kuruba and SC/ST. Siddaramaiah, who is a native, and the change in caste voting helped Congress win a major victory here.
The victory seems to be a combination of AHINDA with Siddaramaiah, the upper caste Vokkaligas with DK Shivakumar, and a split in Lingayat votes.
If the Congress sticks to this, it could become a threat again across Karnataka, overtaking the BJP in the upcoming general elections.