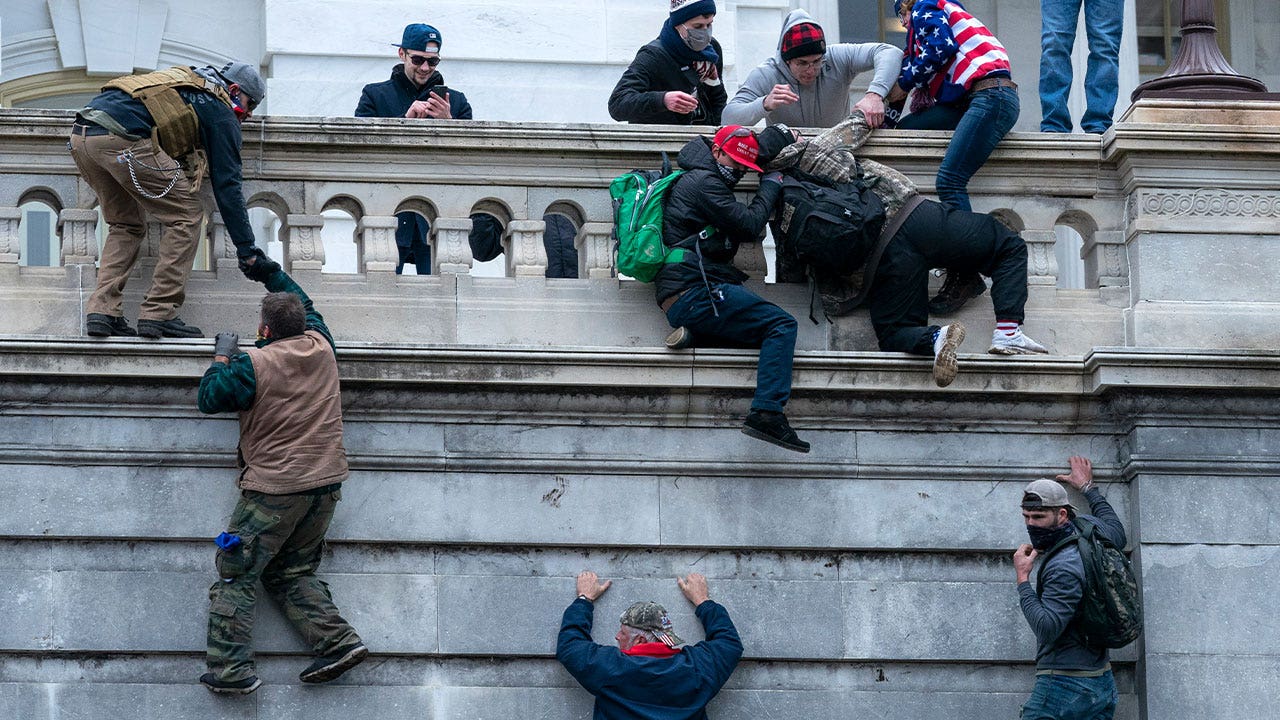 An Idaho man who drove to Washington in a car loaded with weapons and was photographed hanging from the Senate balcony during the Capitol riot was sentenced to 15 months in prison on Wednesday.
Josiah Colt, one of the first rioters to reach the Senate floor on January 6, 2021, later pleaded guilty that year to obstructing Congressional certification of Joe Biden's White House victory. .
Also on Wednesday, a man who accompanied Colt around the District of Columbia in a rental car with two pistols, knives, a stun gun, body armor and other equipment was sentenced to about three years in prison, according to court records. Las Vegas resident Nathaniel DeGrave, who also walked into the Senate Gallery, pleaded guilty to conspiracy and assault charges last year.
IOWA MAN SENTENCED OF 7 CHARGES IN RELATION TO 2021 US CAPITOL RIOT
Both men had agreed to cooperate with investigators as part of their plea deals.
Prosecutors say Colt, DeGrave and a third man, Ronald Sandlin, came to Washington prepared for violence and intended to block lawmakers from certifying 2020 election results as they joined angry mobs supporters of then-President Donald Trump. storm the Capitol.
On December 31, 2020, the men had discussed in a Facebook chat a plan to "ship weapons" to Sandlin's home in Tennessee. A few days later, Sandlin posted a photo on social media of Colt, who was lying in bed with his eyes closed and holding a handgun, with the caption: "My fellow patriot Josiah Colt sleeps ready for the boogaloo of the January 6." Boogaloo is a term some extremists use to refer to a second civil war. Colt responded to the "Ready for any battle" message, followed by a laughing emoji.
Colt, a 34-year-old from Meridian, Idaho, brought his gun to a rally the day before the riot but decided to leave it at a hotel on the morning of Jan. 6, authorities said. The three men watched on TV as Trump told his supporters in a speech before the riot to "fight like hell" or they "would have no more country."
After the riot broke out, the men entered the Capitol through the Upper West Terrace gates. They went to a hallway outside the Senate gallery, where Sandlin led a charge against officers at Colt's entrance, prosecutors say.
Colt shouted, "This is our home! This is our country! This is for the people!" before jumping on the floor of the Senate. Sitting in a chair reserved for then-Vice President Mike Pence as Senate Speaker, Colt raised his fist as rioters cheered him on, prosecutors said. Colt opened a door and allowed dozens of other rioters to join him.
MILITARY VETERAN 'ENAMOURD OF HITLER' GETS 4 YEARS FOR ROLE IN CAPITOL PROTEST
DeGrave, who carried bear spray in his pocket, called on others on the Senate floor to 'take laptops, paperwork, take everything,' according to court documents.
Sandlin, of Millington, Tennessee, was sentenced in December to five years and three months in prison after pleading guilty to conspiracy and assault charges.
Colt's attorneys said in a court filing that Colt "is a good person who made a series of very bad choices based on misinformation and the emotional eloquence of a demagogue."
CLICK HERE TO GET THE FOX NEWS APP
Prosecutors accused DeGrave of trying to capitalize on his participation in the attack by selling video footage of the riot to the media.
"He even profited from his unlawful conduct on January 6 since his incarceration – to the tune of more than $120,000 – by soliciting donations on crowdfunding sites claiming he is a 'political prisoner' of a 'regime. corrupt Biden," prosecutors wrote.
DeGrave's attorney said in court papers that DeGrave regretted "allowing himself to be drawn into the world of those who claim 'political persecution' following their actions on January 6."
"Nathaniel acknowledges the intellectual dishonesty of admitting the criminality of his own conduct on January 6 on the one hand, and complaining of unfair treatment by the criminal justice system on the other," added the attorney for defense William Shipley.
More than 1,000 people have been charged with federal crimes related to the Capitol riots. Nearly 500 of them were sentenced, more than half of them to prison terms ranging from seven days to 14 years and two months.