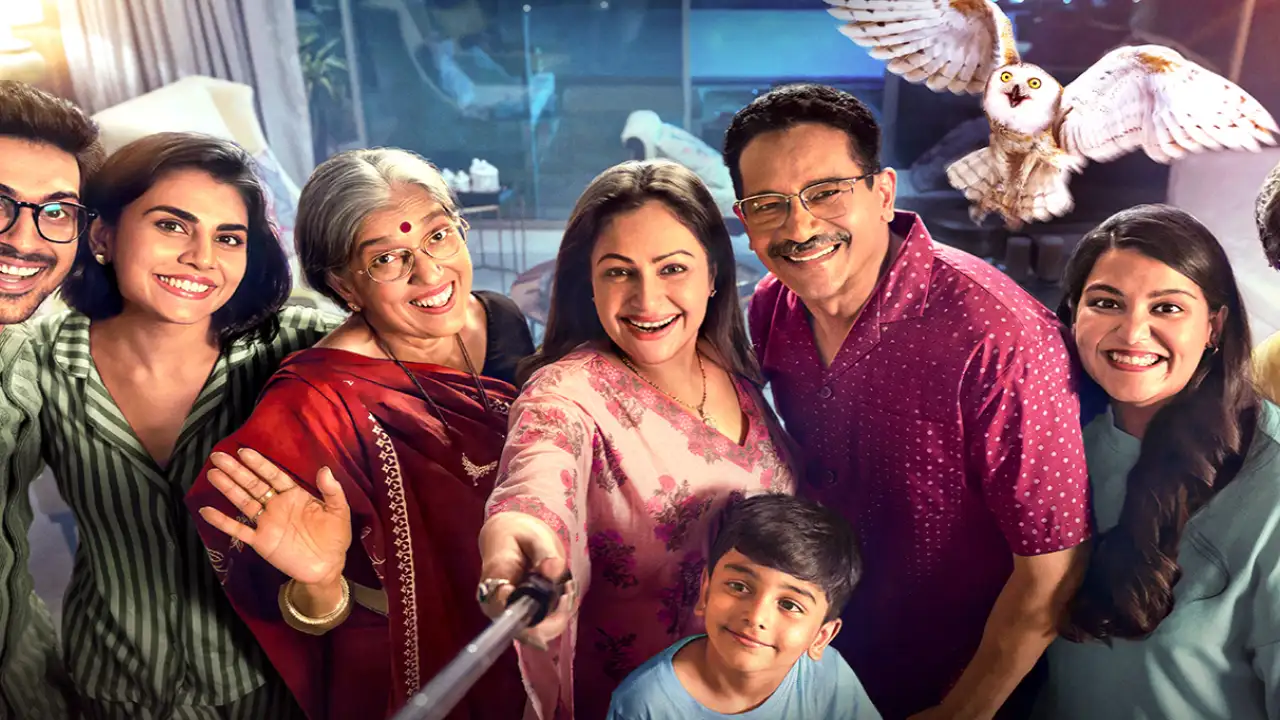 Name: Happy Family: Conditions Apply
Director: aatish kapadia
Cast: Ratna Pathak Shah, Raj Babbar, Ayesha Jhulka, Atul Kulkarni
Classification: ⅘
Where to look: Amazon Prime Video
Plot
Happy Family: Conditions Apply is a heartwarming series that plows its way through the dark and edgy OTT space. This hilarious family comedy has been created and directed by Aatish Kapadia and Jamnadas Majethia (JD). After delivering classics like Sarabhai vs Sarabhai and Khichdi, the creators are staying true to their history of delivering massive content.
Revolving around the lives of four generations of Dholakia, Happy Family shows how most families are dysfunctional and are a mix of traditional and modern values. Ratna Pathak Shah, Raj Babbar, Atul Kulkarni, Sanah Kapur, Ayesha Jhulka, and the rest of the all-star cast shine through the first four episodes.
The Dholakia are known for their lively personalities and inimitable idiosyncrasy. These quirks lead them into situations that are funny and wacky.
It works?
Ratna Pathak Shah's character ensures that you fall in love with her. Surprisingly, the disputes in Dholakias will not bother you. Instead, she will make you fall in love with the madness of her. What makes Happy Family a commendable viewing experience is that each character has their own cheekiness to it. Whether it's Atul Kulkarni's protectiveness of his son or his obsession with medicines, Raj Babbar's sense of humor, Ayesha Jhulka's love of selfies, Sanah Kapur's feminism and Meenal Sahu's need to correct the grammar of all; there is not a single dull moment.
The writer deserves a special mention for writing some rib-tickling dialogue.
What doesn't work?
The fact that it ended. Why did he have to? We deserve more!
performances
Ayesha Jhulka couldn't have made a better comeback than Happy Family: Conditions Apply. Ratna Pathak Shah knocks it out of the park as a Gujarati daadi who is extremely sassy which also happens to be a live representation of her real life personality. Atul Kulkarni may be a widely acclaimed actor renowned for his gutsy roles, but the greedy actor in him bites squarely into this deliciously funny character. And boy, does the man deliver! A vehement exclamation to the versatility of this extraordinary actor. Sanah Kapur lights up the screen with her enchanting presence, while Raj Babbar, Meenal Sahu and the rest of the star cast have also poured their hearts and souls into their respective characters.
final verdict:
If you want a weekend binge on a weekday, Happy Family: Conditions Apply is the perfect medicine for your yearning soul.
READ ALSO: EXCLUSIVE: JD Majethia in Happy Family Condition Apply, Pushpa Impossible, Sarabhai Vs Sarabhai and Khichdi