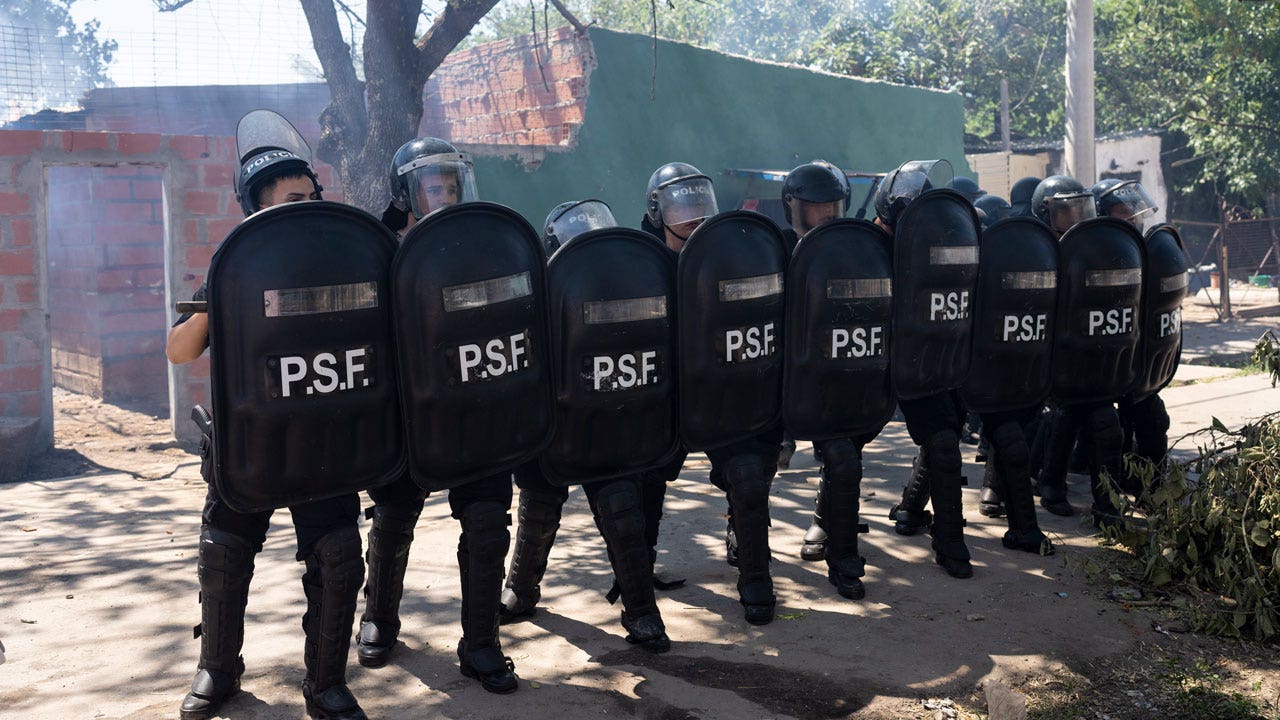 Argentina's president said Tuesday he would send hundreds more federal security forces to the central city of Rosario Drug violence has attracted international attention Because of the recent threats against soccer star Lionel Messi.
The death of an 11-year-old boy at the weekend sparked concern and anger in Argentina over growing violence in the city, following a written threat last Thursday when assailants set fire to a supermarket owned by Messi's in-laws.
It was not clear why Messi and his relatives were targeted, but officials publicly speculated at the time that it was a attempt of drug traffickers to scare the whole community
On Sunday, an 11-year-old child was killed and three other children, including a 2-year-old, were injured in what authorities said was related to a war between rival gangs.
President Alberto Fernandez announced on Tuesday that the federal government would increase in the number of federal security forces 1,400 for the port city. Fernandez did not specify how many forces would be needed but provincial estimates said it would double the number currently in the city.
Argentine police arrest suspect who killed 11-year-old boy during birthday party
Fernandez said army engineers would also be sent to help build infrastructure for the poorer areas.
"I understand Rosario needs us," Fernandez said in a recorded video message about the city, some 190 miles north of the capital. "I know their security forces are inadequate."
Furthermore, the President said that the government will Install 600 new surveillance cameras Open a new branch of your Anti-Money Laundering Agency in Rosario, with facial recognition software, and deal with drug-related financing.
"We are going to put the authority of the state at the center to bring community life back to the city," Fernandez said. We will not hesitate to tackle organized crime."
Rosaria's mayor Pablo Javkin, a politician opposed to the ruling Peronist coalition, previously accused the federal government of not doing enough to respond to the city's violence, which has risen to levels historically rare in Argentina.
Adrian Spelta, Prosecutor in Charge weekend shooting testsaid the violence shows that "some of the boundaries that existed have been crossed," noting that the presence of minors may have put the brakes on drug-related shootings in the past.
On Monday, Argentines watched live on news channels as neighbors and relatives of the murdered 11-year-old boy attacked the alleged suspect in his home. Police detained him and saved him from mob violence, but residents destroyed his house and looted his belongings.
People claimed to have destroyed at least 3 houses in the area used by drug dealers.
No one was injured in last Thursday's accident early morning supermarket attack The Rosario native and captain of the national soccer team that won the World Cup late last year is linked to relatives.
But a message written on a piece of cardboard carries an ominous warning: "Messi, we are waiting for you."
Click here to get the Fox News app
Security Minister Anil Fernandez It was said at the time that the incident was an example of how drug traffickers "won" in Rosario, but now "we have to reverse it."