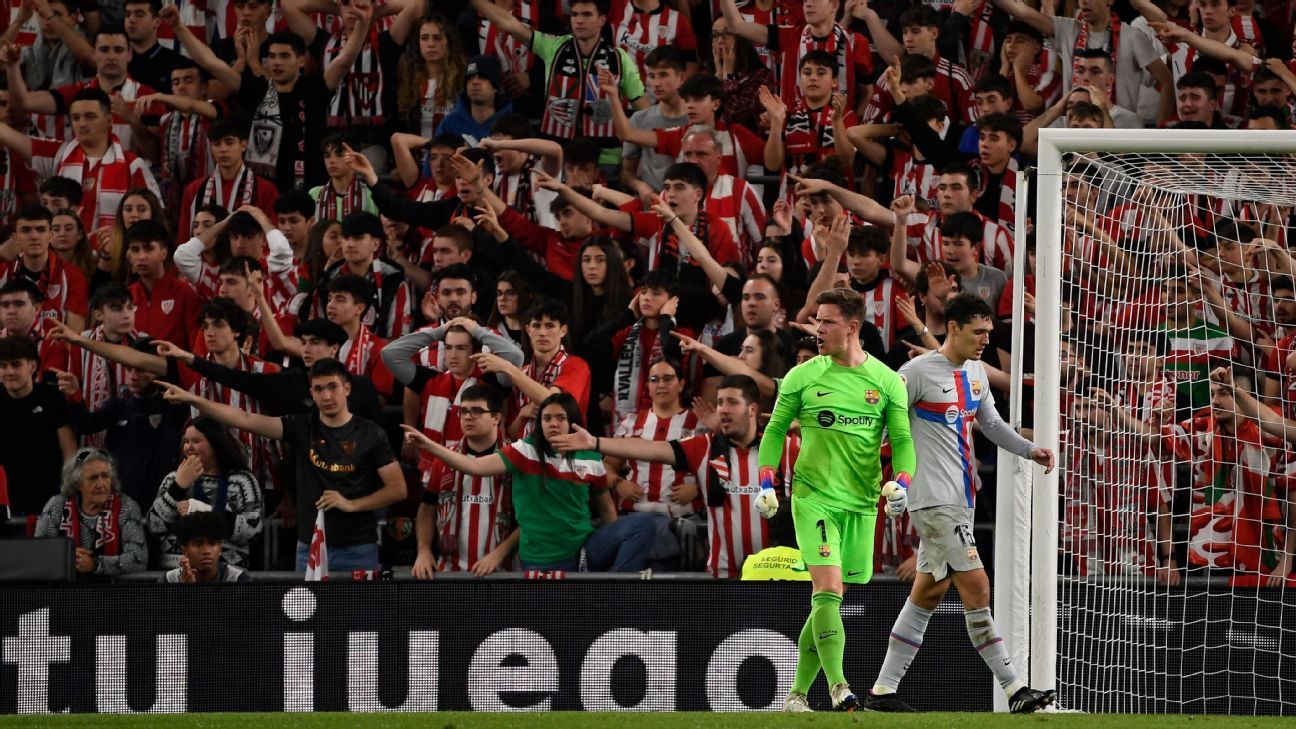 Xavi Hernandez said he was shocked and saddened by the targeted hostility at Barcelona by Athletic Bilbao supporters during his team's 1-0 win at San Mames on Sunday.
Rafinha scored the only goal of the game to restore Barca's nine-point lead at the top of La Liga as Athletic fans protested allegations the Catalan club bought favorable treatment from the referee.
The home crowd threw banknotes marked with "Mafia$" and Barca's badge onto the pitch during the first half and chanted for Xavi's side to be "back in the second tier".
"I respect the fans in San Mames," Xavi said at his post-game news conference. "They have always treated me well, but I was surprised by the hostility towards Barca.
"Sad to see this. [Barca] Being judged ahead of time, which I don't think is good for society. everyone is free to [air their opinion]And I respect all opinions, whether I agree with them or not, but it hurts me."
Asked whether he expected a similar atmosphere in other upcoming games and whether it would affect his players, Xavi said: "I have nothing more to add, [just that] it makes me sad."
He said, 'We did not talk to the players about this in the dressing room.' "We are here to win and focused on football. We are all professionals."
Prosecutors filed corruption charges against Barcelona on Friday following the revelation of payments totaling €7 million to a company owned by the former vice-chairman of the refereeing committee between 2001 and 2018.
Former presidents Sandro Rosell and Josep Maria Bartomeu are also listed among the defendants, along with former referee Jose Maria Enriquez Negrera.
Barca deny any wrongdoing and say they never bought referees or influence and that they were paying Negira for a "technical report on refereeing".
On Sunday, Real Madrid said they would join the complaint filed against Barca by prosecutors Blaugrana President Joan Laporta once again tweeted the club's "innocence", claiming they were "victims of a campaign" against them.
Later on Sunday, Barca won 1-0 in La Liga for the ninth time in the league this season and consolidated their grip on top spot ahead of next weekend. classico Against Madrid at Camp Nou.
Athletic, who hit the woodwork twice, thought they had scored a late equalizer through Ianaki Williams, only to have their joy cut short when referee Gil Manzano disallowed the goal due to an earlier handball by Iker Munian. Gave.
Athletic coach Ernesto Valverde said, "I've seen the images, and I don't know if it's more the shoulder or the arm." "But it is not about that, it is a question of what is football and what is not.
"I think VAR is there to correct flagrant mistakes. So it came. Big errors. Balls that went in or not, penalty. Call the referee to see if it touches [a hand] Or don't pass the first five. I don't know if it is related to the world of football."
Xavi said, after reviewing the images, that it was a "clear handball", but admitted that his team were not at their best against Athletic, despite registering a 19th clean sheet in 25 league games.
"It is true that we have to play better, but it is a difficult place to come," said the Barca boss. "Suffering is normal in San Mames, but this is an important victory.
"We knew it would be a tough game. We've still got a nine-point lead, and we go into the Clásico with confidence. But we have to improve at the top in attack."