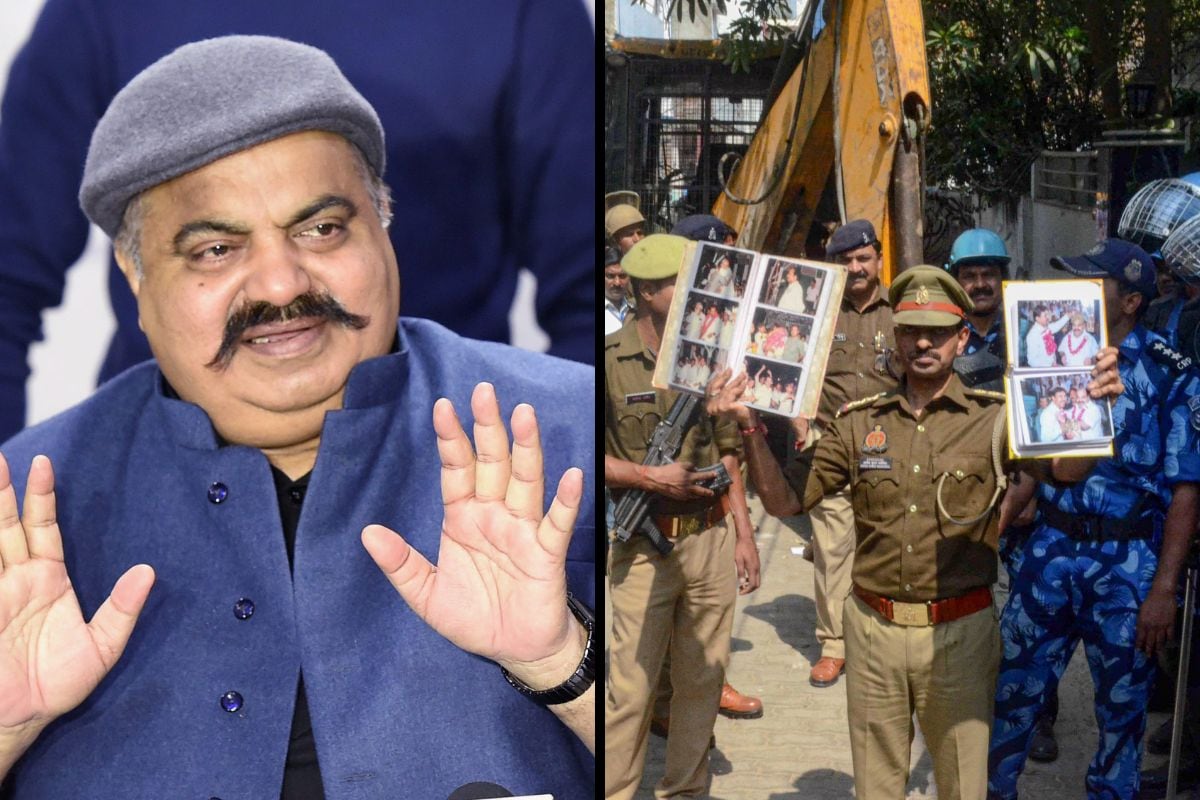 (right) A policeman shows photographs of Ateeq Ahmed (left) and his family members as the property of his associates is being vandalised. (PTI)
Atiq Ahmed, who is lodged in a Gujarat jail, is the main accused in the 2005 murder case of BSP MLA Raju Pal.
A jail guard and another person were arrested on Tuesday for allegedly facilitating an illegal meeting between gangster-turned-politician Atiq Ahmed's brother and jailed former MLA Ashraf and his close aides, a police official said.
Ashraf is lodged in Bareilly District Jail since July 2020. Atiq Ahmed, currently lodged in a Gujarat jail, is the main accused in the 2005 murder case of BSP MLA Raju Pal. Atiq and Ashraf were recently booked in connection with the murder of Umesh Pal, a key witness in the murder case.
The police officer said that apart from jail guard Shivhari Awasthi, the other person arrested has been identified as Dayaram, who used to be a supplier attached to the jail canteen.
Two mobile phones and Rs 3,920 in cash have been recovered from them.
He told that a case has been registered against five named people including Ashraf at Bithri Chainpur police station. In this, unknown jail officials and unknown associates of Ashraf have also been mentioned.
Superintendent of Police (City) Rahul Bhati said that a case has been registered against Khalid Azim alias Ashraf, his brother-in-law Saddam, Lalla Gaddi, Dayaram and others on the complaint of Anil Kumar, police post in-charge of New Jail. Shivhari Awasthi.
Bhati said that it has been alleged in the complaint that Dayaram used to take cash and other items and gift them to jail officials during the supply of vegetables and other items in the jail canteen.
The SP said that on the orders of his officers, Shivhari Awasthi used to hold meetings of six-seven people on the same ID two or three times a week at places other than the designated area inside the jail.
As per the complaint, the meetings between Ashraf and his relatives and associates used to last for an hour or two and Awasthi used to take money for arranging them.
In another development, Bareilly police said that a case of cheating and theft has been registered against Saddam and raids are being conducted to arrest him.
SP (City) Bhati said a case was registered on Tuesday based on the complaint of Azam Nagar resident Mohammad Hasin.
The complainant alleged that Saddam rented a residence from his brother Mohd Tasleem under a false identity at his Khushboo Colony residence and threatened to kill him for demanding the rent. The complainant said that Saddam also stole books, Aadhaar card and Rs 50,000 in cash from the house.
read all latest politics news Here
(This story has not been edited by News18 staff and is published from a syndicated news agency feed)